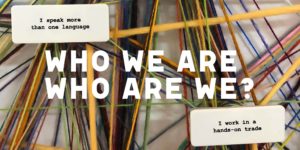 The Maine Museum of Innovation, Learning and Labor opened a new exhibit focused on immigration and identity. The show shines a light on the varied groups of people from around the world who have chosen to come to Maine, and specifically Lewiston-Auburn, why they have stayed (or left), and the stories and identities that shape our area.
Rachel Ferrante, Maine MILL's executive director shared, "We are a museum focused on community history and culture, preserving the stories of our region. The new exhibit aims to relate previously told and untold narratives in equal measure, through historical research, artifacts, and numerous oral histories. There are several interactive components in the show, and we hope the community will contribute to our growing knowledge base by sharing more stories and keepsakes."
The exhibition is made possible in part by the Maine Humanities Council. Lewiston Threads is sponsored by Berman & Simmons. Select school field trips are made possible thanks to United Insurance.