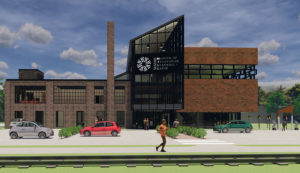 Request for Proposals (RFP): Construction Manager for Maine MILL new museum
SCHEDULE
Issued: May 16, 2023
Deadline for Questions: May 26, 2023
Proposals Due: June 9, 2023 5:00 PM EST
Contact Person: Rachel Ferrante, Executive Director, Maine MILL
Maine MILL: New Museum
This request is posted on behalf of Maine MILL to solicit your proposal for professional Construction Management (CM) services for construction of a new museum in Lewiston, Maine. The anticipated start of construction is March 2024.
Description
The project is located at 1 Beech Street in Lewiston, Maine. The site is at the edge of Simard Payne Park and next to the Androscoggin River. Maine MILL (formerly Museum L-A) is a history and culture museum originally founded to preserve the artifacts and heritage of the industries that dominated the western/central Maine region for over 100 years. The mission of the museum is to celebrate the told and untold stories of workers to foster community connections and inspire future creativity and ingenuity.
Drawings and information will be made available to all CMs participating in this selection process.
The Site
The site consists of a 2-acre lot at 1 Beech Street in Lewiston, Maine. There remains the shell of a two-story brick mill building comprised of approximately 7,000 square feet on each floor. It was built in the 1860s. The new addition will provide an additional approximately 11,000 square feet so that the museum will total about 25,000 square feet. The two portions of the project (renovating the existing mill building and building the addition) will be completed at the same time. Environmental remediation has been completed and the existing structure has been stabilized and cleaned.
Site survey, Environmental & Geotech reports are available.
Prospective Construction Managers are being invited to participate in the following selection process. Each CM is asked to prepare a written proposal (5 copies, + electronic version) to be submitted to the Owner no later than 5pm on June 9, 2023.
The Owner will interview prospective Construction Managers who submit proposals. Interviews will be held in June (exact date TBD). The interviews will last approximately 45 minutes each, which will include a Q&A period.
Qualifications
Each proposal shall address the following:
1. Identification of principals of the firm.
2. Identification and qualifications of key personnel to be used, including Project Executives, Project Managers, Superintendents and Estimators. Submission of names shall be a commitment on the part of the Construction Manager to retain stated personnel on the Project throughout its duration. It is a specific requirement that each Project Manager and Superintendent attend the presentation to the Owner.
3. Specific construction management experience on projects of similar program and scope. Experience in cultural work and mill redevelopment is of primary interest. A complete list of similar related construction management projects completed during the past five years shall be submitted, along with Owner and Architect references.
4. Narrative description of the firm's philosophy of Construction Management.
5. Demonstration of successful management systems for the planning, organizing and monitoring of similar construction projects. Please include information on ability to maintain schedule.
6. Description of quality control and safety programs.
7. Identification of Work, if any, proposed to be performed by the Construction Manager's own work forces.
8. Proposed Construction Manager's fees for both the base contract and Owner authorized changes, each expressed as a percentage of construction cost. Please include fees for pre-construction services.
9. Anticipated General Conditions budget. Please express it for the full project duration as well as cost per week.
10. The labor rates, all-inclusive, of all reimbursable personnel to be included on the project team.
11. Financial references and current bonding limitations. It is expected that 100% Payment and Performance Bonds will be required.
12. Is your firm presently involved in any litigation, arbitration or mediation? If so, please explain.
13. Construction Manager's proposed modifications, if any, to contract forms to be used for this Project. See "Form of Agreement" identified herein.
14. Other information, qualifications and/or exceptions to the selection process.
Responsibilities of Construction Manager
The Construction Manager shall be expected to perform all professional services consistent with the industry-accepted roles of a Construction Manager.
In general, they shall include but shall not necessarily be limited to:
– Attend meetings with the Owner and/or Architect as necessary, throughout the design and construction processes.
– Provide recommendations regarding potential design improvements, materials, equipment selections, and cost savings.
– Assume charge of, and responsibility for project scheduling, including but
not limited to, all construction activities as well as integrating the schedules related to cabling, equipment installation and furniture systems as provided by others. The Construction Manager's preparation and maintenance of a master project schedule shall not imply responsibility for the performance of contractors separately employed by the Owner.
– Construction Sub-bidding process, including the pre-ordering of long lead items.
– Construction phase management, coordination, inspection, supervision, safety and quality control services.
– Construction phase records and accounting.
– Federal funds will be used for a portion of this project, so Construction Manager will comply with all applicable federal regulations.
Form of Agreement
The form of agreement between Owner and Construction Manager shall be A133 2019. General Conditions shall be AIA-201-2017, General Conditions of the Contract for Construction with Supplementary Conditions to be prepared by the Owner and Architect.
After the execution of the Agreement, the Construction Manager shall prepare a Guaranteed Maximum Price (GMP) for the entire scope of the Work and upon the Owner's acceptance of the Guaranteed Maximum Price, it shall be amended to the Agreement. It is anticipated that the GMP will be submitted to the owner three weeks after execution of the Agreement.
The Construction Manager will be expected to work closely with the Owner, Architect and Engineers and will be encouraged to propose cost and time-saving alternatives.
Selection Factors
Selection criteria to be used by the Owner shall include, but not necessarily be limited to personnel named to the project, similar project experience and qualifications, Construction Manager's Fee, Scope of services included in the fee versus General Conditions, as well as any and all other considerations which the Owner may determine to be in the best interest of the Owner. The Owner's decision with regard to the selection of a Construction Manager shall be considered final.
1. The Owner retains the right to waive any informalities, to reject any or all Proposals, or to accept any Proposal determined to be in the best interest of the owner.
2. It is the Owner's intent that as much of the Work as practical be competitively sub-bid by not less than three (3) pre-qualified sub-bidders for each trade or bid package. All subcontractors shall be subject to the acceptance of the Owner. All mechanical and electrical sub-bidders shall be pre-qualified and must have directly related experience.
3. The Construction Manager Request for Proposal, Selection Process, and Schedule as outlined herein shall be considered subject to change as required by the Owner. Terms and conditions of the Agreement Between Owner and Construction Manager shall take precedence over all prior understanding and/or Agreements, if any, including this Request for Proposal.
4. The Owner may at any time terminate the services and/or contract with the Construction Manager for the Owner's convenience and without cause. In case of such termination for the Owner's Convenience, the Contractor shall be entitled to receive payment from Owner limited to actual documented expenses of the Construction Manager as of such date.
5. Questions related to the construction management selection process or this RFP shall be directed to:
Gabrielle Russell
Platz Associates
2 Great Falls Plaza, 7th Floor
Auburn, Maine 04210
207-784-2941
grussell@platzassociates.com
6. Proposals, 5 copies + 1 electronic version, shall be delivered to:
Rachel Ferrante, Executive Director, Maine MILL
35 Canal Street, Box A7
Lewiston, Maine 04240
646-265-0069
rferrante@mainemill.org
7. Drawings and information will be sent via email.
Other Terms and Conditions
In addition to the rights reserved by Maine MILL elsewhere in this RFP, the Owner reserves the right to:
1. Following the submission of proposals and completion of presentations, the Owner will consider all available information and select one Construction Manager with whom it will make a good faith effort to negotiate a Construction Agreement. In the event such an agreement cannot be reached to the satisfaction of the Owner, it reserves the right to terminate negotiations with no obligation to the apparently selected Construction Manager, and to enter into an agreement with any other party of its choosing.
2. Adjust the timetable for this RFP as deemed necessary.
3. Waive informalities and minor irregularities in proposals received.
4. Reject and not consider any or all CMs who do not meet the requirements of this RFP, including but not limited to those submitting incomplete and/or non-responsive responses or proposals.
5. Reject any or all proposals received and not to award a contract pursuant to this RFP, or to cancel or terminate this RFP process at any time, whether before or after any proposals have been submitted or received, if deemed by Maine Mill to be in its best interest.
6. Reject the CM selected pursuant to this RFP and offer a contract to another CM in the event the selected Consultant does not enter into the required contract to provide services described in this RFP.
7. Correct or amend this RFP. In no case will this RFP be amended within seven (7) days of the proposal submission deadline unless the amendment includes an extension of time. Maine MILL will not be liable for any costs incurred as a result of changes to this RFP.
Confidentiality and Nondisclosure
Construction Manager shall maintain in trust and confidence and shall not disclose to any third party, except as such disclosure may be authorized in writing in advance by Maine MILL, and shall not use for any unauthorized purpose, any and all information, documents and data received or obtained from or on behalf of Maine MILL. Consultant may use such information, documents and data only to the extent required for the purposes described in this RFP. Consultant shall adhere to all security, confidentiality and nondisclosure policies and procedures required by Maine MILL for the protection of such information and data from unauthorized use and disclosure and from loss.
List of General Conditions
For the purposes of preparing fee proposals, Construction Managers are advised that the following shall be considered a complete and comprehensive list of allowable General Conditions. Should the proposer request any modifications, they shall be clearly stipulated in the Fee section of the Proposal. In your proposal please include a document that identifies the services to be included in the fee and those to be included in the General Conditions.
Building Permits
Bonds and Insurances
Bond Premiums
Construction Operations Insurance
Completed Operations Insurance
Umbrella Coverage Insurance
Additional Insurances as recommended by the Contractor
Labor Burden on General Conditions Personnel
Project Managers
Superintendents
Assistant Superintendents
Field Engineers
Timekeepers
Watchmen
Traffic Control
Project Layout
Project Layout Equipment
Project Safety
Travel Expenses
Office Trailer
Temporary Storage Trailers
Temporary Chemical Toilets
Temporary Telephones
Temporary Light
Temporary Power Cost
Temporary Heat
Temporary Heat Equipment
Temporary Enclosures/Winter Protection
Temporary Water and Sewer
Snow Removal
Field Office Suppliers, Postage and Printing
Daily Clean-Up
Dumpsters and Disposal
Final Cleaning
Record Drawings