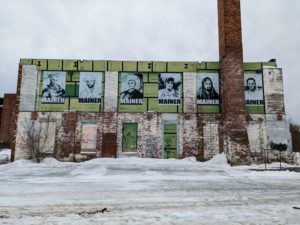 The Maine Museum of Innovation, Learning and Labor today unveiled new commissioned works of art displayed at the museum's future home. The museum collaborated with artist Pigeon to create portraits of Lewiston-Auburn residents to add to the existing MAINER series. Six portraits are on display on the side of the former Camden Yarns Mill at 1 Beech Street.
Pigeon's MAINER Project began in 2015 in Portland. The portraits depict people who live in Maine—some were born here, others recently moved here. In every case, the subject has had experiences of being explicitly told they did not belong in Maine. Pigeon has brought this series across the state, though this is his first project in Lewiston-Auburn. By committing to sustaining conversations throughout the community, Pigeon and those that engage with the works gain a deeper understanding of the class, ethnic and personal problems in Maine.
The community is invited to view the works anytime at the future museum site and is then encouraged to join Pigeon for a community conversation at Maine MILL on Tuesday, March 28 at 5pm at the museum's current location at 35 Canal Street.
Short biographies of the individuals with portraits at Maine MILL are as follows:
Araksan is an educator and community health worker. She has been active in the Lewiston community since she arrived in 2016. She is involved in many activities that help Mainers of all ages, colors and gender. She is proud to call herself a Mainer!
Djamal is originally from Chad and moved to Auburn in 2014. He's currently a student at Central Maine Community College, studying Building Constructions Technology while building his own art (Jamal's Art Boutique) and cologne business (Chateau des parfums). Djamal speaks Arabic, French and English.
Abijah was born in Orlando, Florida but has always been on the move. At age 13, she and her family left California to travel cross country in an RV. During her travels, she learned one thing: anything is better than Florida! She arrived in Lewiston at the beginning of 2022. Her dream is to be a beacon of change and support for Lewiston and beyond.
Lawton is a musician, painter, sometimes lobsterman and full-time caretaker to his sister and nephew. He is Mohawk but was born in Maine. His grandfather had made the move from New York. When people find out he is native from Maine, they assume he is Passamaquoddy. He calls himself a non-native Native.
Assasi is a rapper and co-founder of the Bilad El Sham movement in Syria. His wife is from Millinocket and they met in Lebanon where he was a refugee and she was teaching. He has also been a refugee in Nepal, India and Malaysia. After living in so many countries, he describes coming to Maine in 2017 as the biggest culture shock.
Ruby is from Oaxaca, Mexico. She is a phenomenal cook of her traditional cuisine and an avid dancer.
The MAINER project at Maine MILL is made possible by Androscoggin Bank. Additional support was provided by Community Credit Union.